Chris Goode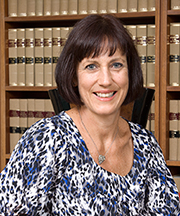 Chris has been Jim's Personal Assistant for over five years and is integral to the smooth running of both his chambers and his personal and sailing life.
Prior to this job, she has had a varied range of work experiences, including being a children's librarian for a number of years. In recent times she has held various administrative, PA type roles and thrives on using her organisational and administrative skills.
Her BA in Economics and a Diploma in Information and Library Studies has provided the academic background to her experience while her practical, "can-do" attitude means she is willing to tackle anything Jim throws her way.
Chris, in addition to the legal side of the job, also helps organise Jim's sailing programme for his two racing yachts "Georgia" and "Georgia One", including handling the numerous racing and regatta campaigns, both here and in Australia.
Chris works mornings only, which is just as well as she is a bit of gym junkie in the afternoons. She is married with two adult children and spends the rest of her free time dreaming and planning her next overseas travel experience.